Tips/Articles,
How to Retire Old Glory: Respect the Flag and the Environment
Jun 27 2017
This July 4th lots of people will be flying the American flag to show their appreciation for our country's history and freedoms.  If you fly a flag it will inevitably become worn and tattered and leave you with the dilemma of how to dispose of it.
When to Retire
Are you unsure about whether your flag needs to be retired? According to the Flag Code, "when [a flag] is in such a condition that it is no longer a fitting emblem for display, [it] should be destroyed in a dignified way…". The American Legion's 'Top Ten' Flag Myths can help you decide.  For example, you can continue to use a flag that has touched the ground or covered a casket.
Ceremonial Burning, Dignified but…Safe?
American flags can be retired through a ceremonial burning.  Many organizations such as American Legion, local VFWs, and Boy Scout Troops accept flags for burning and will properly retire your flag.  However, burning synthetic flags, such as nylon, creates hazardous fumes which are harmful to human health and the environment.  It's become a bit of a quandary for scout troops and veterans organizations alike.
Keep in mind, the traditional method was suggested in 1923 when synthetic fabrics were very uncommon. Some municipalities have gone so far as to ban the burning of synthetic flags out of concern for air quality. Fortunately, as the Boy Scouts of America notes, there are other respectful ways to dispose of your flag.
Recycle Your Flag
As the Flag Code states that flags must be "destroyed in a dignified way, preferably by burning" other methods can be used. Nylon flags can be mailed to American Flags Express, Inc. for recycling.  There is a fee to cover the cost of sorting, storing, and transporting to a fabric recycler.  The company explains that virtually all of the nylon fiber can be converted into virgin grade nylon material that can be made into a new flag.
Advanced Disposal provides a seasonal flag retirement collection at its facilities. They send cotton flags to the American Legion and nylon flags to a recycler.  "Respectfully retiring the American flag is a great way to show our appreciation of the 'stars and stripes' and all it stands for," says Advanced Disposal CEO Richard Burke. Mailing a flag for retirement, including  a note stating such, is an option as well. Note: The collection runs June 1st-September 11th each year.
DIY Retirement
No one person or agency is authorized with retiring American flags –  so consider a dignified DIY retirement. The Boy Scouts suggest cutting apart your flag, such that you do not cut through the blue field of stars (symbolically maintaining the union). Once cut apart, it ceases to be a flag.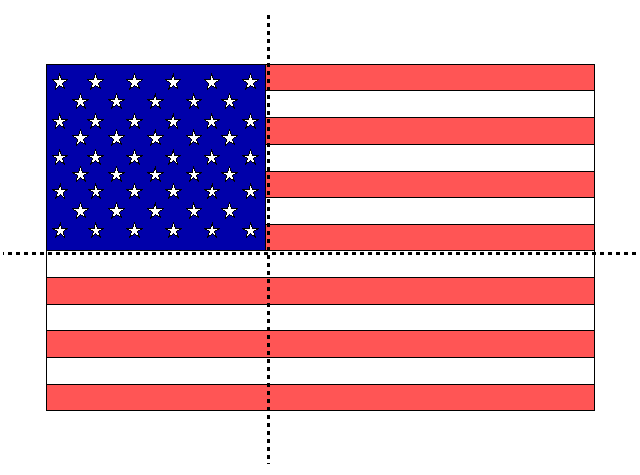 Here's their recommended method:
Stretch out the corners of the flag.
Cut the flag in half, vertically — do not cut into the blue star field.
Place the two halves together and cut in half, horizontally.
You will have four pieces of flag, one being the blue star field and the other three red and white stripes.
Put the flag in a container and dispose of it properly.
If you live near a Goodwill, bring the fabric scraps of your former flag for their textile recycling program. If recycling is not available, then disposal in the trash is acceptable since the scraps are no longer considered a flag.
Additional Local Flag Collections
If you live in or near DuPage County there are a few more options for disposing of your worn flag. In the fall and spring, many towns host Recycling Extravaganzas. Often scouts or a veteran's organization attend to collect flags for retirement. Be sure to check each event's collection list before packing up. You can also check with local boy scout troops.
Make It Last
Before you jump up out of your seat to retire your flag, consider how you can make it last longer. Annin Flagmakers, the oldest manufacturer of flags in the U.S., reminds us that often our flags just need cleaning and repair.  Not only does it show respect for the flag but also for the resources used to make your flag. One should only consider retirement when a flag becomes damaged beyond repair.
Here are some quick tips to increase the longevity of your flag:
Buy high quality. Higher quality materials and craftsmanship add up for a longer lasting flag. Buy American-made to further show your patriotism and reduce the environmental footprint of your flag.
Take it down. Flying a flag 24/7 can cause a lot of wear & tear. Consider taking your flag down at the end of every day or during severe weather.
Get it cleaned. Depending on the material, your flag may be washed at home or dry cleaned (look for an eco-friendly cleaner!) Some cleaners provide the service for free.
Repair it. Can a flag be repaired? Yes indeed! The main concern is to maintain the dimensions of the flag. Some flag companies include repair services for large flags. This seamstress loves the challenge.
Donate it. For unneeded flags in good condition, find a friend or organization to donate it to. If donating, be sure to properly fold the flag and place it in a bag.